ESG Target Setting
Good.Lab helps companies define an appropriate level of aspiration in the highest priority ESG performance areas.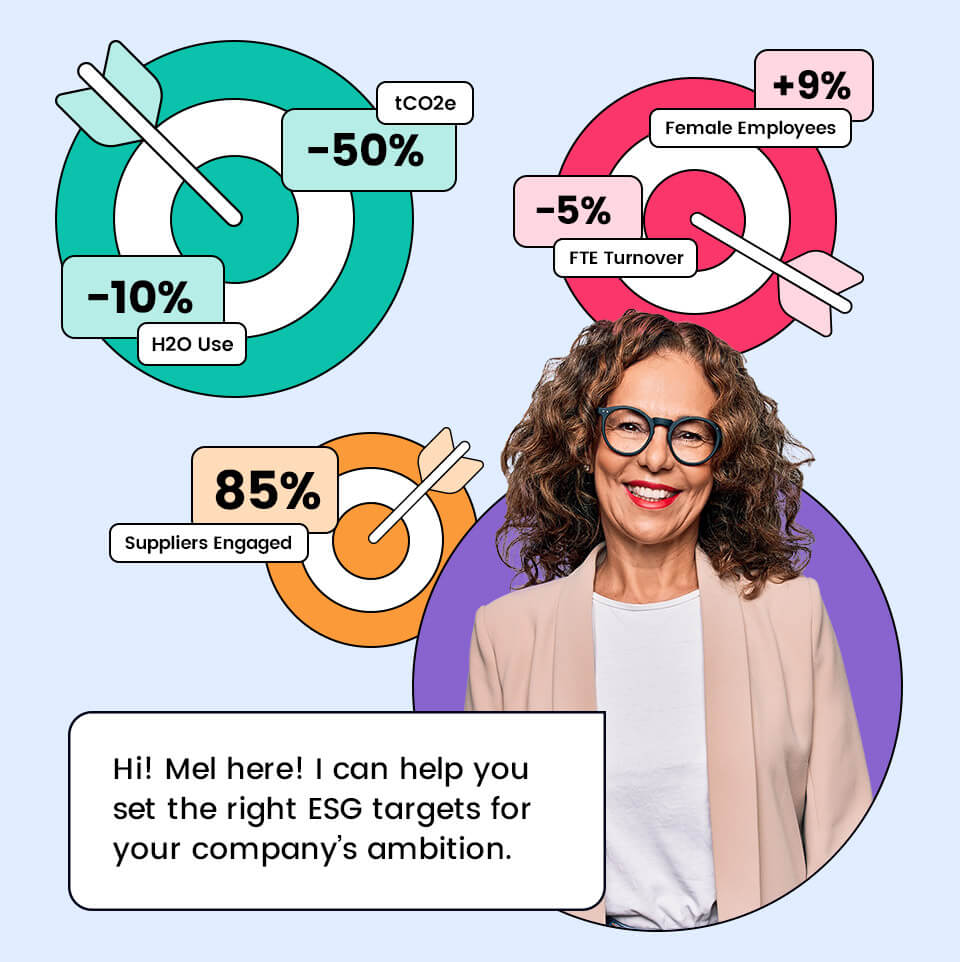 Target the right ESG metrics to maximize your impact
Companies of all sizes are experiencing increasing pressure from customers, consumers, investors, and governments to manage, disclosure, and improve their ESG performance.
Dissatisfied Investors
86% of investors are dissatisfied with ESG & climate risk data disclosed by businesses
Source: EY
Higher Returns
US companies with the best ESG scores had 8% higher returns in 2021
Source: Morningstar
Growing Legislation
More regulations are being passed to manage and report on ESG performance globally
Source: Good.Lab
How can your company adequately respond to ESG demands?
And more importantly, where should you start?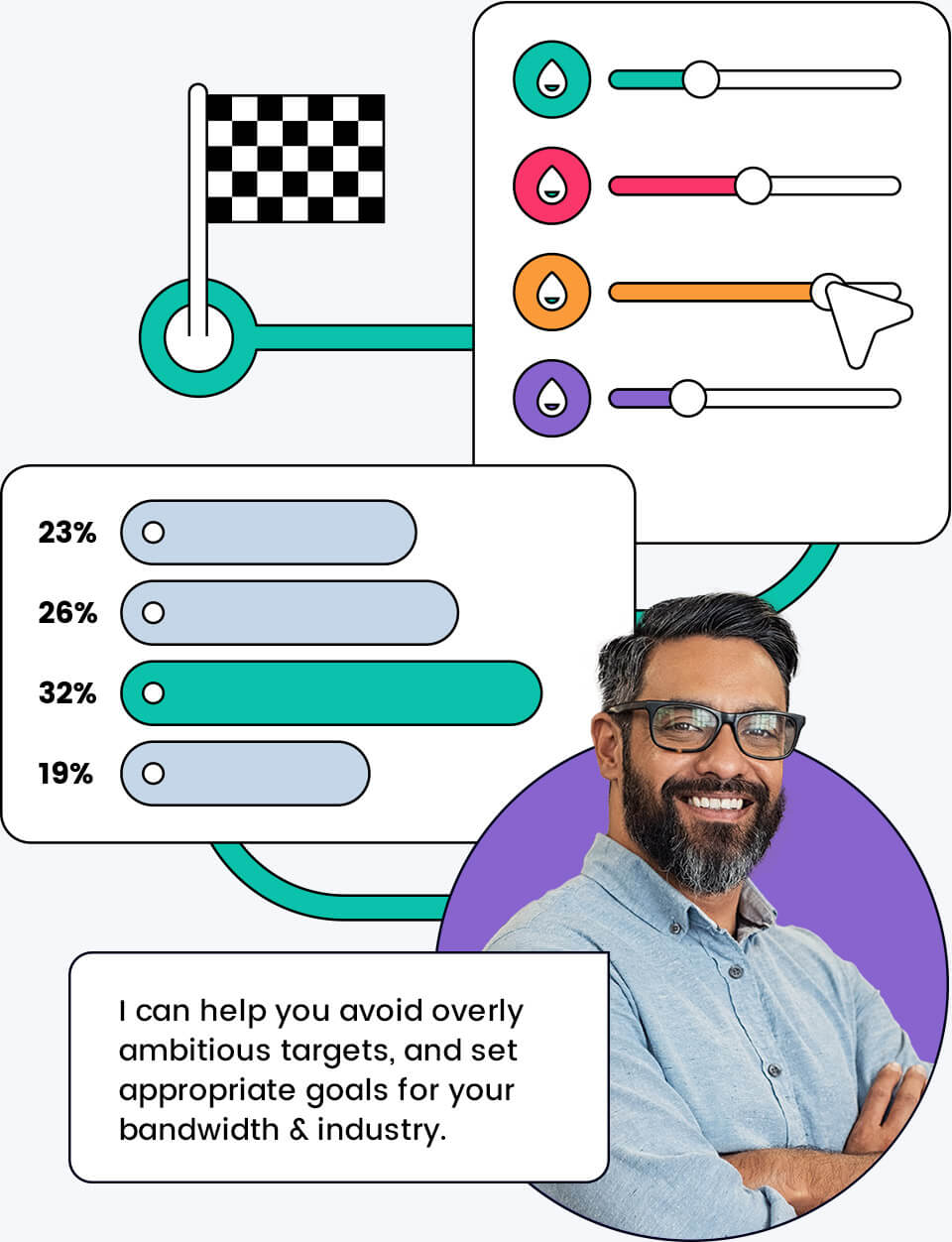 Let's take the guesswork out of ESG target setting
Good.Lab's dedicated ESG experts work alongside your team to help you set specific, measurable, and time bound ESG targets.
Our experienced consultants leverage an ESG Software Platform to help you select achievable improvement targets across a range of ESG topics that are relevant to your industry and stakeholders
Our consultative approach will help you to identify how your company can set a plan to improve performance and stay ahead of consumer, investor, and regulatory pressures.
Good.Lab's approach to ESG target setting
Identify the ESG areas that matter most

Capture multi-stakeholder perspective with a Materiality Assessment
Uncover clear areas of priorities for ESG performance targets
Determine performance relative to industry peers and competitors
Leverage a Sustainability Benchmarking database covering 20+ industries

Assess your current ESG progress

Analyze existing efforts with a software-based Progress Assessment
Address ESG areas that show the highest level of activity already
Determine whether you want to set more aggressive or achievable ESG targets
Engage stakeholders with a virtual workshop led by our team of experts

Calibrate your ESG ambition

Hone in on the ESG areas where you can truly lead
Define how you'll quantify current and future ESG progress
Map your ESG program efforts to disclosure and reporting requirements
Prepare disclosures for common ESG reporting frameworks

Review, refine, & adopt the right targets

Evaluate your current capabilities with our software for Baselining Performance
Identify any gaps between your current baseline and ESG ambitions
Implement tools for ongoing measurement and tracking for your ESG performance
Build a solid plan for tracking Social & Governance performance, too!

Improve & report your ESG progress

Track progress towards your goals in each key area
Get tailored performance improvement roadmaps
Gain visibility into your ongoing ESG performance data
Articulate your approach to ESG for key stakeholder communications
Setting the right ESG targets is an essential part of your ESG strategy
Learn more about the five steps to making data-driven ESG goals part of your business strategy.
Read complete article
Sustainable Compliance: How Protingent Met Microsoft's GHG Emissions Reporting Requirements with Good.Lab
Protingent needed an experienced solution partner with climate expertise and the right tools to streamline their emissions management processes. With a pragmatic approach, in- house experts, and scalable software solutions, Good.Lab proved to be the right partner to support Protingent in producing an accurate GHG emissions baseline across Scopes 1, 2, and 3, calculating their […]
Read complete article
Navigating the Federal Marketplace: Staying Competitive on Sustainability & GHG Emissions Management for Government Contractors
The U.S. Government is focused on driving sustainability through its procurement processes. New Federal policies have been introduced to incentivize Federal contractors to measure, manage and report on their greenhouse gas (GHG) emissions and other environmental, social, and governance (ESG) initiatives. To win more contracts and maintain their competitiveness, contract bidders must keep relevant Federal […]
Read complete article
Why Every Apparel Company Should Measure Their Greenhouse Gas Emissions
The apparel industry faces as many high materiality ESG issues as any other industry – greenhouse gas (GHG) emissions, raw materials, water, biodiversity, DEI, supply chain sustainability, among other ESG topics are critical. One ESG issue that rises to prominence for apparel is emissions. Key players in the industry are collaborating and innovating to reduce […]