Your ESG Journey Starts Here
Launch your company's sustainability journey today with an ESG Calculator designed to help you define priorities, assess progress, and plan actions.
Step 1
Diagnose
Which ESG issues are most important to your company?
Answer a short series of questions in our confidential calculator to determine what ESG means to your company and what issues are most important to focus on.
Industry Prioritization Benchmarks
Get started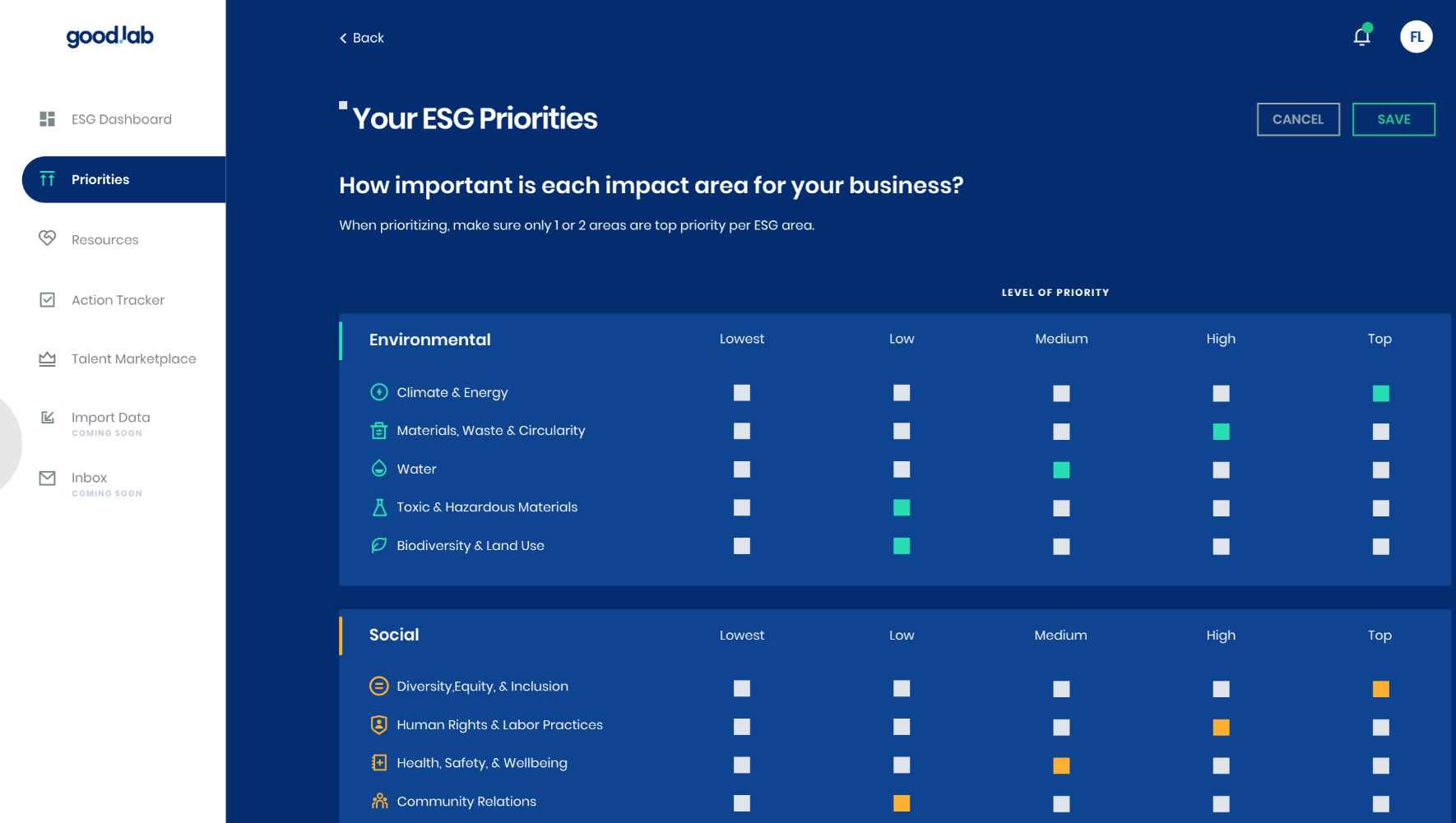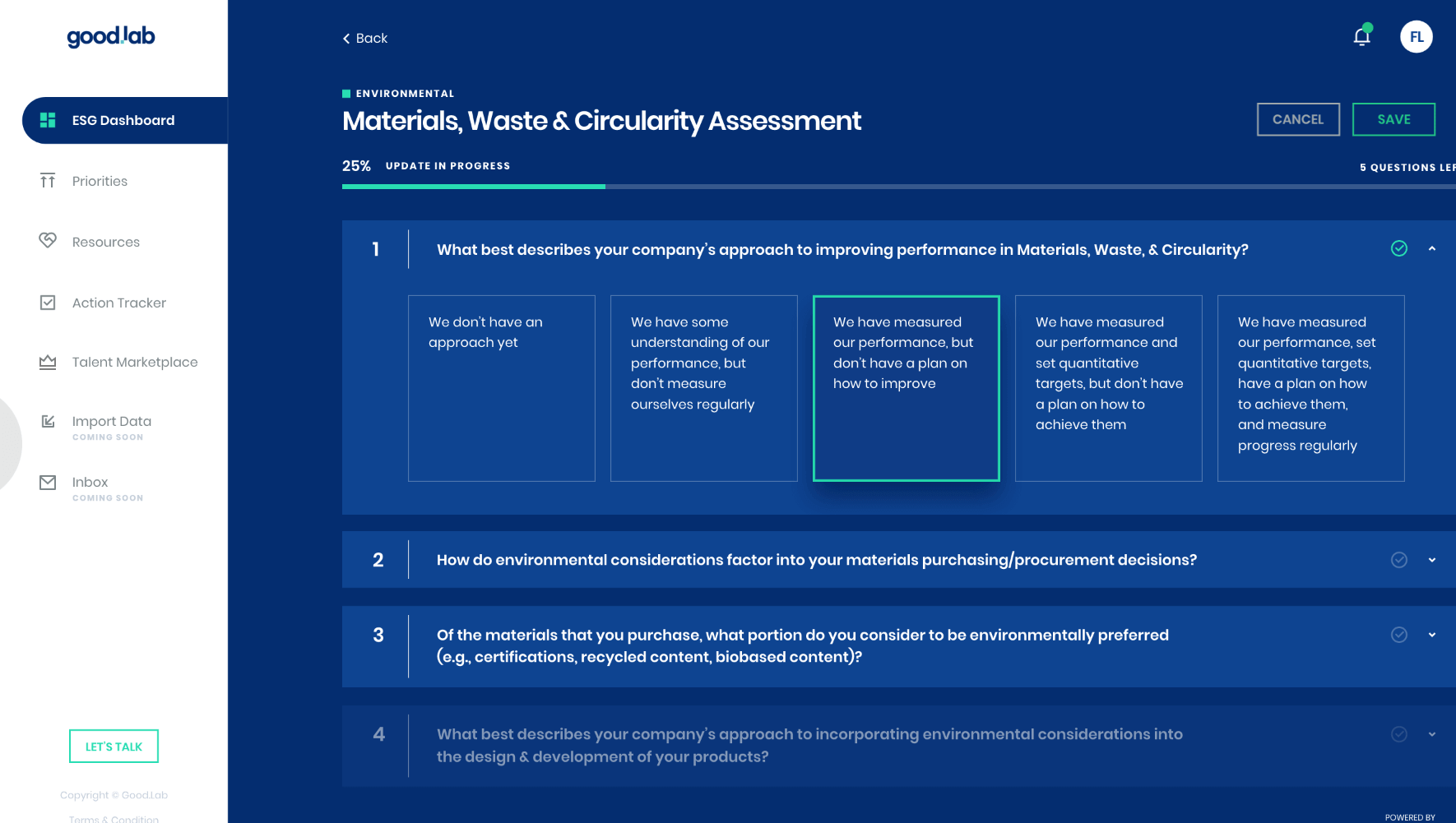 Step 2
Benchmark
What is your ESG baseline today?
Gauge where your company currently stands and evaluate progress on the ESG issues most relevant to your business with recommended action items for each impact area.
Get started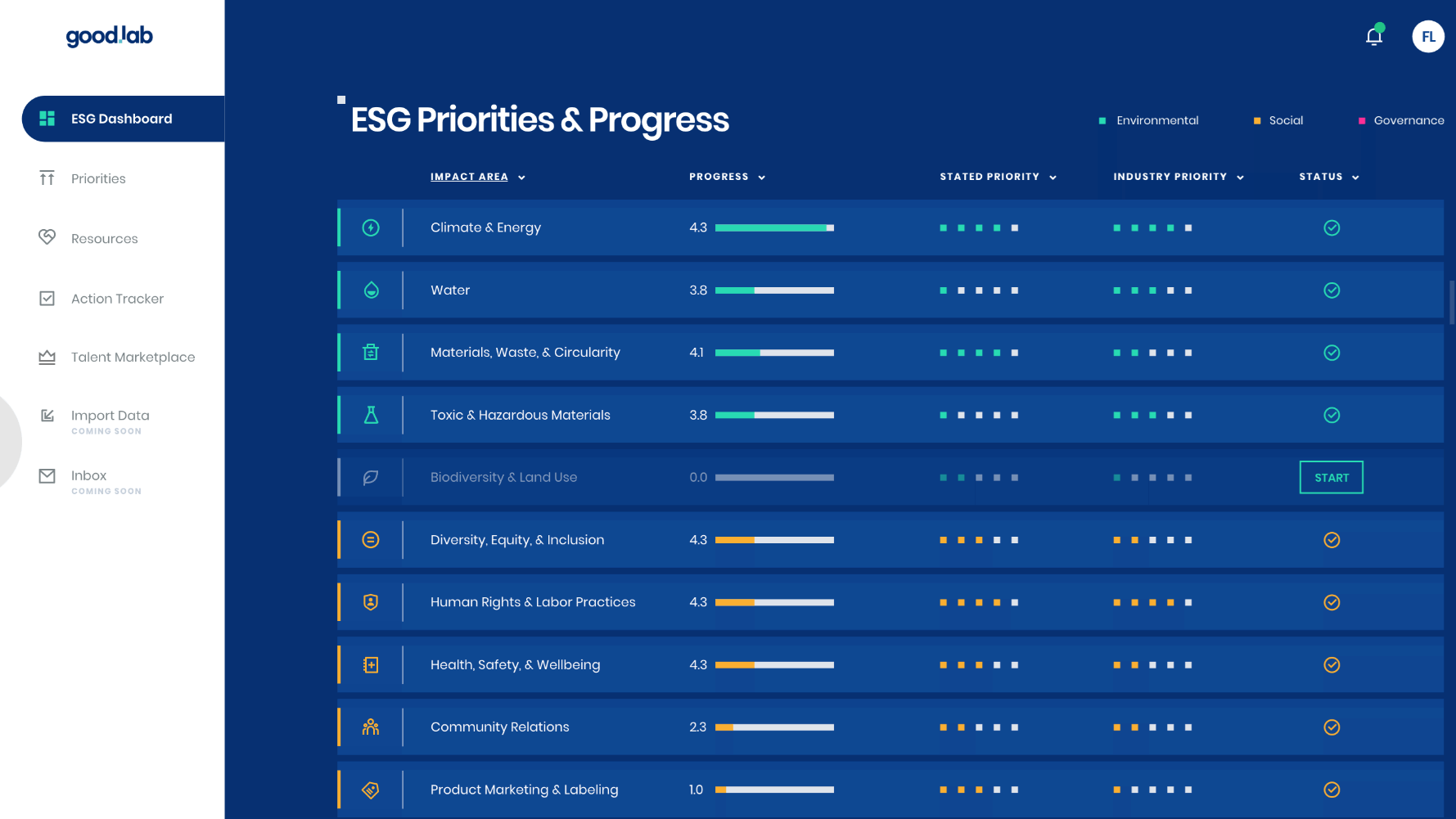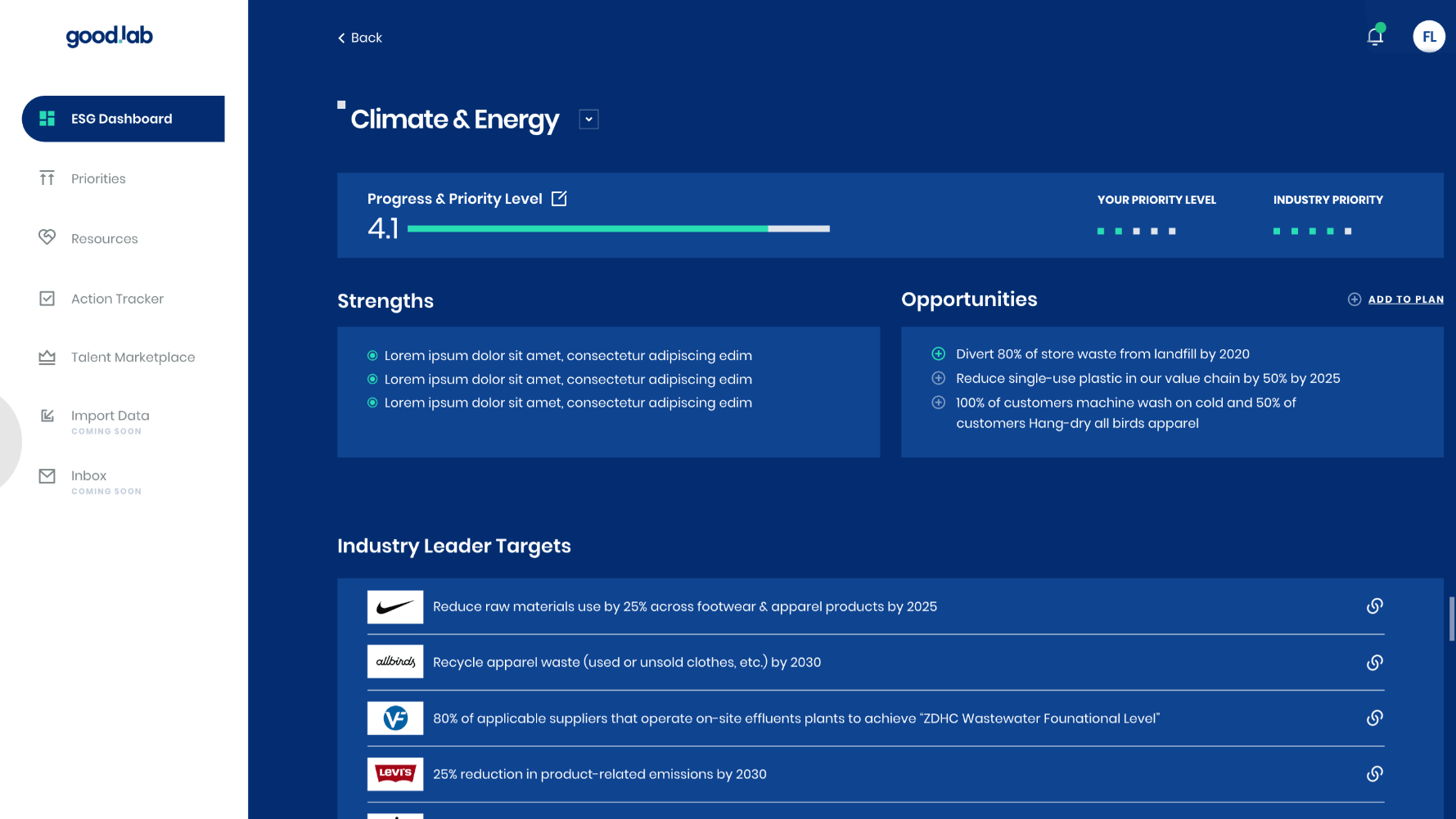 Step 3
Improve
How do you set measurable and achievable ESG goals?
Uncover opportunities for improvement with customized resources, recommendations, and targets from sustainability leaders in your industry, and start measuring progress towards your goals.
Peer Best Practice Benchmarks
Progress Baseline & Tracking
Access to ESG Talent Marketplace
Get started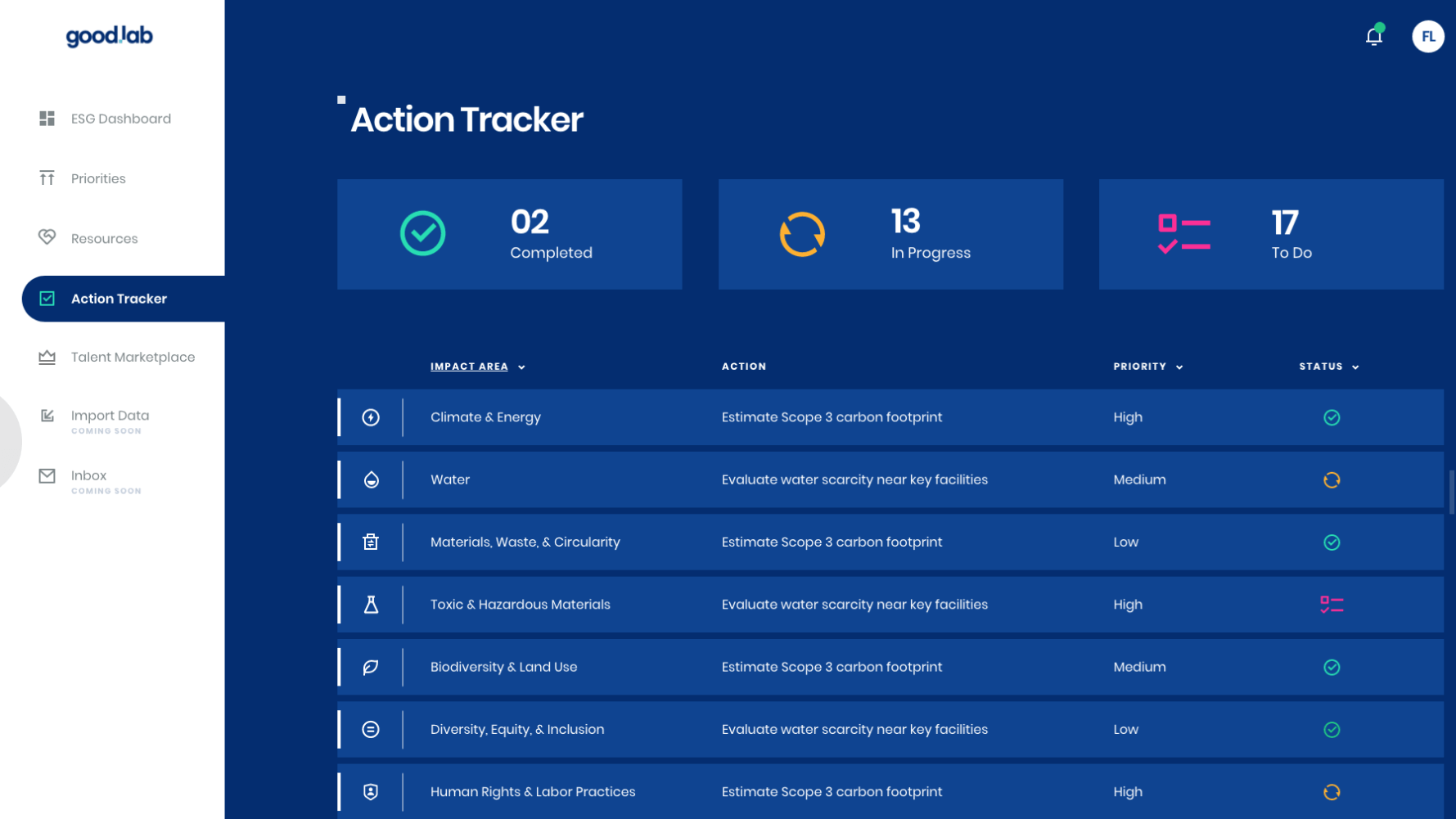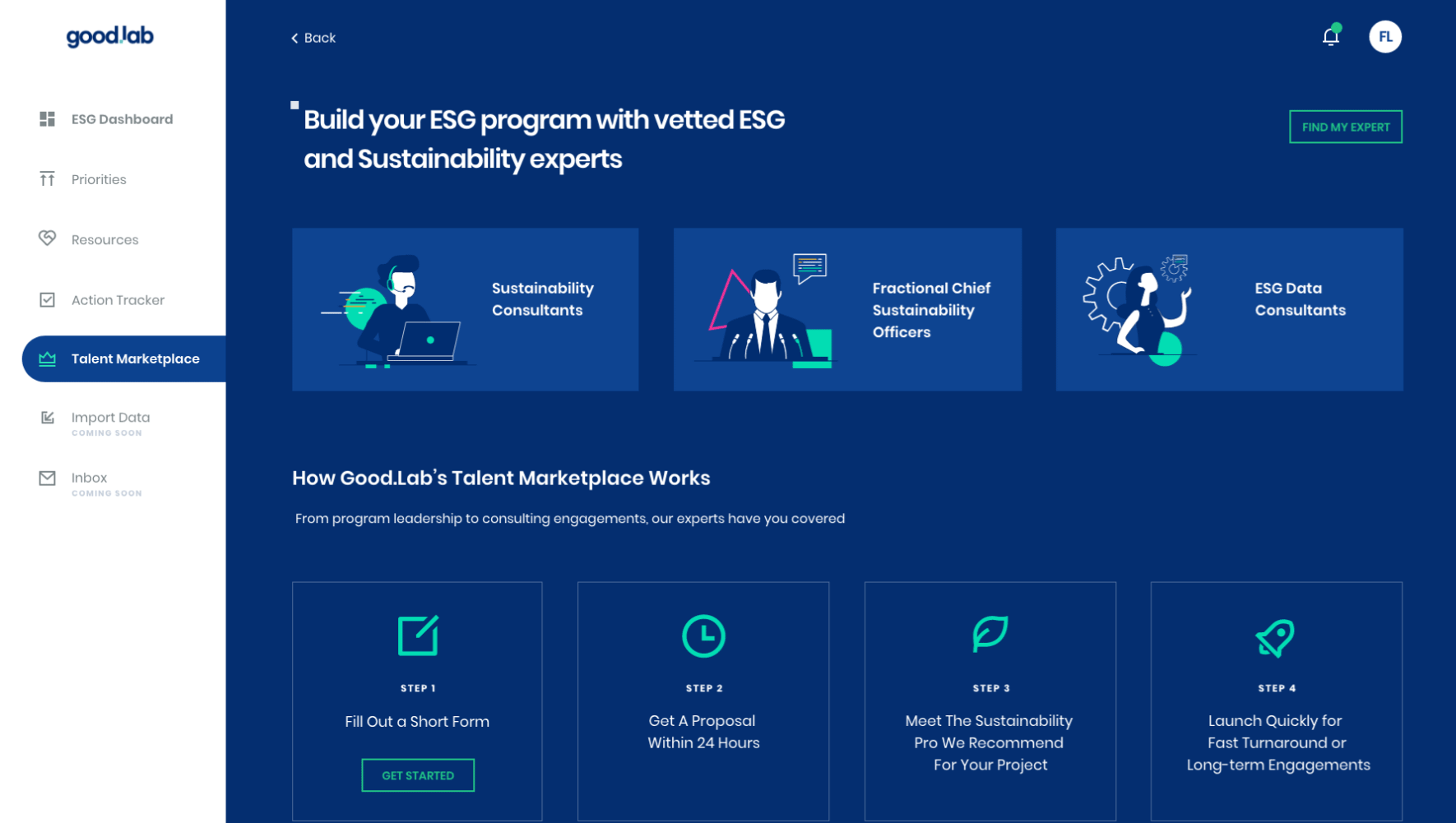 Why calculate your sustainability progress?
Attract & Retain Talent
71% of professionals would be willing to take a pay cut to work for a company that has a mission they believe in and shared values.
LinkedIn
Differentiate Your Brand
66% of all consumers and 73% of millennials are willing to pay extra for sustainable products.
Nielsen
Grow Sales
50% of CPG sales is earned by the 17% of products that transparently advertise sustainable attributes.
Fortune
Our Experience
Our sustainability experts have worked with the best companies in every category.
FAQ
Environmental
Climate & Energy
Materials, Waste & Circularity
Water
Toxic & Hazardous Materials
Biodiversity & Land Use
Social
Diversity, Equity, & Inclusion
Talent Management
Human Rights & Labor Practices
Health, Safety, & Wellbeing
Community Relations
Empowering Consumers
Governance
Risk Management
Supplier Performance Management
Transparency
Ethics & Code of Conduct
Data Security & Customer Privacy
Philanthropy, Policy, & Advocacy
Build

ESG & Sustainability Strategy
Topic Prioritization

Measure

Materiality & Baseline Assessments
GHG Footprinting

Improve

Data Management & Analytics

Report

Reporting & Communications

Assure
It's time for a shift to action. Companies can no longer approach ESG as a box ticking exercise, which is why at Good.Lab we're focused on helping companies supercharge their impact, faster, with data-backed solutions to set sustainability goals with tangible value for all stakeholders.

Ted Grozier, Chief Sustainability Officer, Good.Lab
Our expertise
Our consultants bring experience across the sustainability field. We handpick industry experts from our pool of professionals to address your unique needs irrespective of industry, sector, or geography.
Environmental
Climate & Energy
Materials, Waste, & Circularity
Water
Toxic & Hazardous Materials
Biodiversity & Land Use
Social
Diversity, Equity, & Inclusion
Human Rights & Labor Practices
Health, Safety, & Wellbeing
Community Relations
Product Marketing & Labeling
Governance
Corporate Accountability
Risk Management
Supplier Performance Management
Transparency
Ethics & Code of Conduct
Data Security & Customer Privacy
Policy & Advocacy
Read complete article
C-Suite Research Survey Reveals ESG Insights from Mid-Market Leaders
Environmental, Social, and Governance (ESG) has become an increasingly important consideration for the mid-market in the USA. We set out to survey 100 business executives and sustainability leaders across 17 industries with revenue between $500 million and $2 billion to better understand where they are in their ESG journeys, current ESG trends, the challenges they […]
Read complete article
ESG Trends Survey
In our new ESG Trends Survey Report, The Rise of ESG in the Mid-Market: A C-Suite Survey, we look at today's business landscape and how ESG has emerged as a critical consideration, particularly for mid-market enterprises. Companies are facing mounting pressures from regulators, customers, investors, and various stakeholders, all of whom are increasingly focused on […]
Read complete article
Complying with the new EU Batteries Regulation
Batteries are fueling the transition to a sustainable economy yet pose significant environmental and social challenges. This paradox has led regulators to introduce new regulations, such as the EU Batteries Regulation around how companies make and design their products. As the world moves towards a global circular economy, eliminating unsustainable products and reducing the over-exploitation […]