Know Where You Stand On ESG
Gauge your ESG position relative to peers and industry leaders, all informed by an expanding ESG benchmarks database.
Get Started Today
Complete the form to connect with a member of our team:
Why choose Good.Lab for ESG Benchmarking
Access 1,000+ benchmarks from a comprehensive database of industries
Learn from peers, top performers, and innovative approaches to ESG
Easily analyze targets and drill-down by company, size, industry, or impact area
Define your company's commitment to ESG based on real targets and goals
Good.Lab's ESG Benchmarking Assessment Tool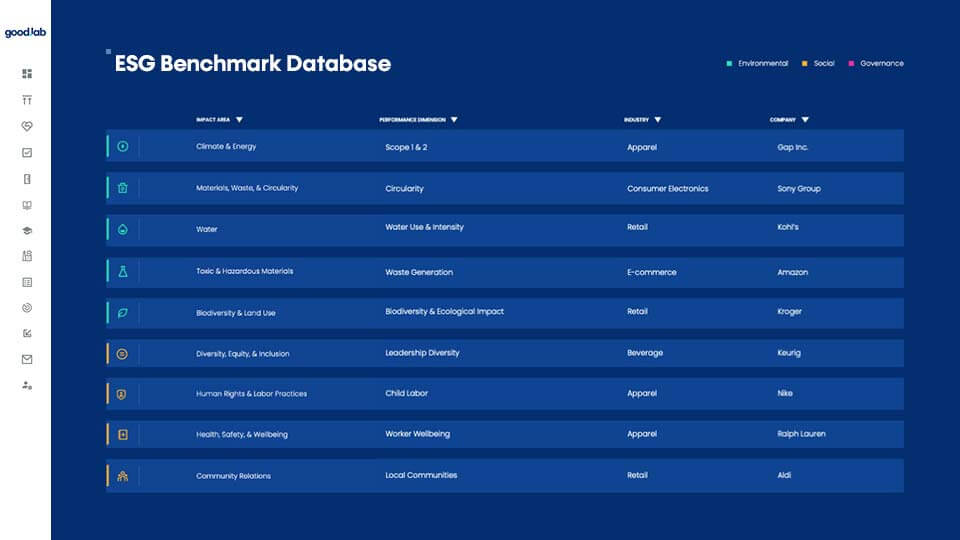 1,000+ ESG Benchmarks
Learn how over 80 leading companies are defining their commitments to ESG and analyze key industry metrics.
Easily Filter Targets
Drill-down into ESG targets and easily filter by selected peers, as well as by company, size, industry, and impact area.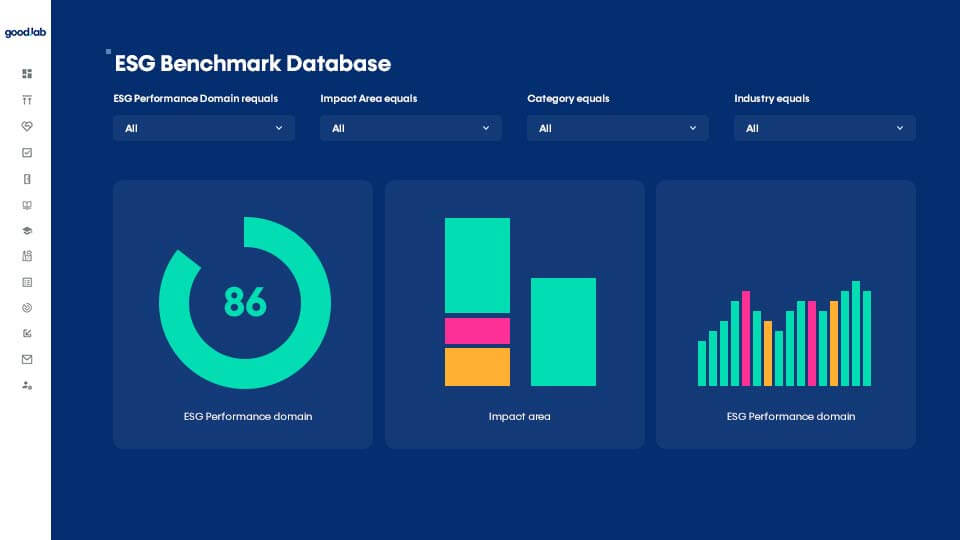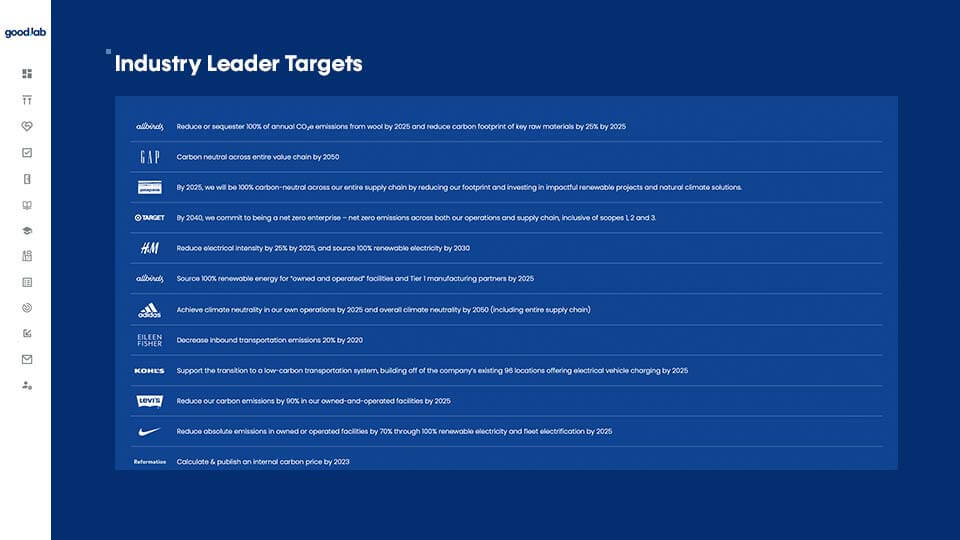 Learn From Top Performers
Assess existing commitments and ambitions to chart a course towards your own ESG targets, all guided by industry best practices.
Calibrate Your ESG Ambition
Use benchmarking results to align leadership, set targets, and calibrate ambition relative to industry peers.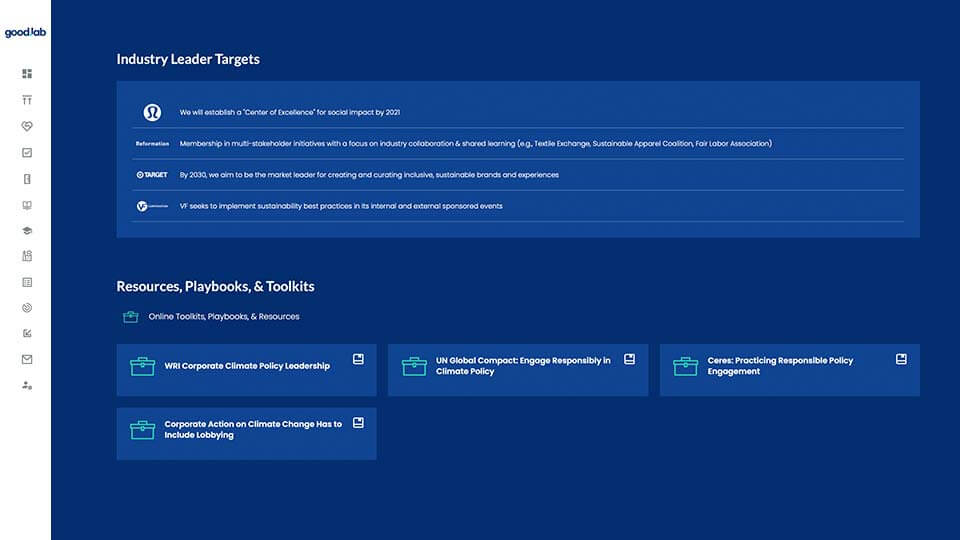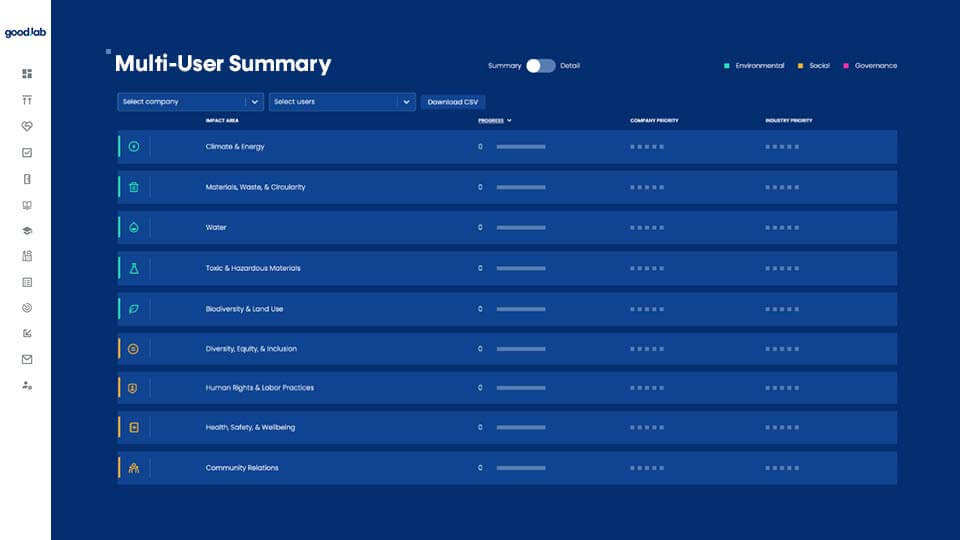 Aggregate Benchmark Data
Consultants and admins can filter and view data by an individual or group of ESG topics, by 1 or more companies, clients, or subsidiaries, or by 1 or more stakeholders, or functional teams.
See Good.Lab In Action
Explore how your team can quickly activate an ESG program to reach its goals with a personalized tour of our services offering & software platform.
Book A Demo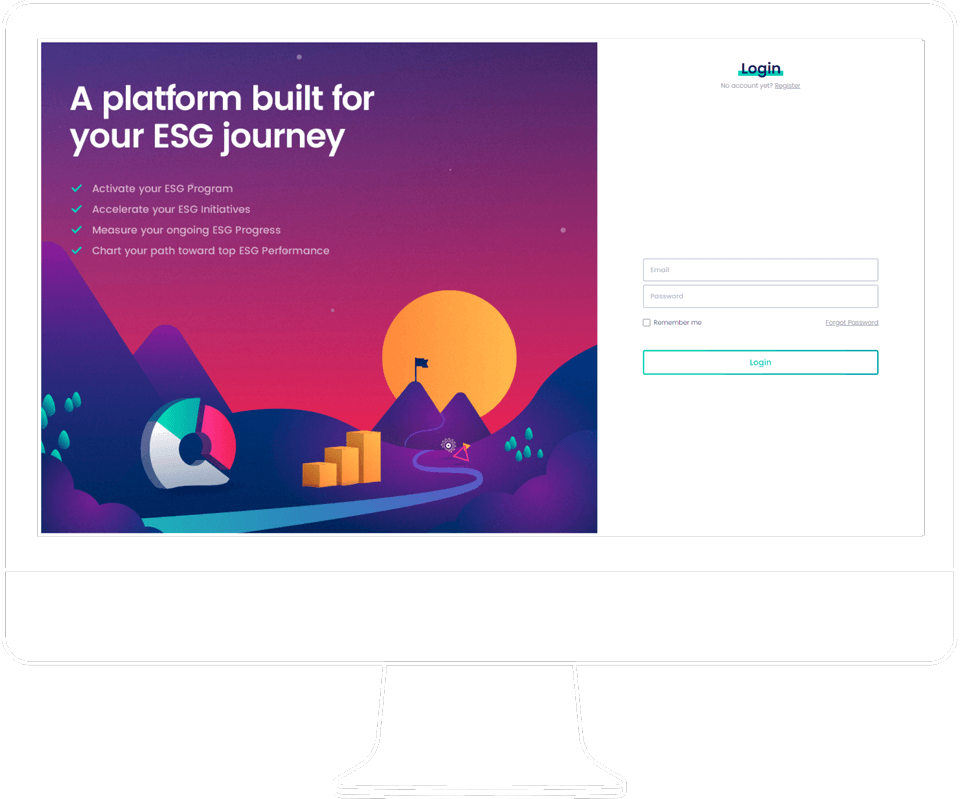 Continue Your ESG Journey with Good.Lab
Benchmarking is an essential step in kicking off your ESG journey. Our experts help you to refine your targets with analysis to set realistic, and achievable ESG goals and engage corporate teams.
Read complete article
C-Suite Research Survey Reveals ESG Insights from Mid-Market Leaders
Environmental, Social, and Governance (ESG) has become an increasingly important consideration for the mid-market in the USA. We set out to survey 100 business executives and sustainability leaders across 17 industries with revenue between $500 million and $2 billion to better understand where they are in their ESG journeys, current ESG trends, the challenges they […]
Read complete article
Complying with the new EU Batteries Regulation
Batteries are fueling the transition to a sustainable economy yet pose significant environmental and social challenges. This paradox has led regulators to introduce new regulations, such as the EU Batteries Regulation around how companies make and design their products. As the world moves towards a global circular economy, eliminating unsustainable products and reducing the over-exploitation […]
Read complete article
Why CPAs Need to Pay Attention to the Fast-Changing ESG Regulatory Landscape
My Takeaways from the CPA.com ESG Symposium The second annual AICPA and CPA.com ESG Symposium brought together top ESG leaders to exchange ideas and discuss the accounting profession's critical role within the ESG category and the growing opportunity for ESG services. The event furthered CPA.com's efforts to enable accounting firms to understand the ESG landscape better and […]